---
Upgrading To Vinyl Windows For Your Home
Ever wondered why vinyl windows are gaining popularity? Or perhaps you're curious about how much it would cost to replace your old windows in Fairfax, VA, with vinyl ones?
This blog post is your guide to understanding vinyl windows and their costs.
By this post's end, you'll be well-equipped to create a more accurate budget and make an informed decision about whether you want to install vinyl windows in your home.
---
Vinyl Windows Cost In Fairfax, VA
The vinyl window cost in Fairfax, VA, can range anywhere from $150 to $600 per window, including installation. The main factors that can change this price are window style, window brand, and material quality.
Here's a breakdown of the average costs for vinyl windows in Fairfax, including installation:
5-10 vinyl windows: $4,000 to $8,000
12-18 vinyl windows: $10,000 to $15,000
22+ vinyl windows: $18,000 to $40,000
90% of our clients in Fairfax request vinyl windows.
---
Cost Factors For Vinyl Window Frames
Understanding the factors that influence the cost of vinyl windows can help you budget more effectively for your window replacement project.
Here are some key factors to consider:
Window Number
The exact number of windows you need to replace or install is a significant cost factor.
Naturally, the more windows you need, the higher the overall cost. However, you may find that contractors offer discounts for larger jobs, so the cost per window could decrease with the more windows you replace.
---
Material Quality
The quality of the materials used in your vinyl windows can also affect the cost of new windows.
High-quality vinyl windows are typically more expensive than lower-quality options. However, they also tend to be more durable and energy-efficient, which can save you money on maintenance and energy expenses over time.
---
Window Brand
Different window brands offer different pricing structures.
Some brands may offer more affordable selections, while others are known for their high-end products. It's critical to research the different brands and pick one offering the best balance of cost and quality for your needs.
---
Window Size
The size of your windows can also influence the cost.
Larger windows require more materials and labor to install, which can increase the cost. However, they also provide more natural light and can enhance the aesthetic appeal of your home.
---
Window Type
The type of window you select can also alter the cost.
For example, basic single-hung windows are typically less expensive than more complex designs like bay or bow windows. However, the type of window you choose can also impact the overall look and functionality of your home, so it's essential to consider more than just cost when browsing for a window type.
---
Extras
Any extras you choose to include with your windows can also add to the cost.
This could include anything from special window treatments to upgraded hardware. Upgraded window designs and technology can increase the upfront cost, they can also enhance the functionality and aesthetic appeal of your windows.
---
Who Does The Work
Who does your vinyl window installation or replacement can also significantly impact the cost.
DIY
If you're handy and have some experience with home improvement projects, you might consider installing the windows yourself.
This option can save you a significant amount on labor costs. However, it's essential to remember that vinyl window installation can be a complex and time-consuming task. It requires a certain level of skill and the right tools.
If done incorrectly, it could lead to issues like improper fit, leaks, and even damage to your home. Additionally, doing it yourself means you won't have the warranty that often comes with professional installation.
Cheap Contractor
Hiring a cheap contractor can seem like a great way to save money.
However, it's important to remember that you often get what out of a project what you invest into it. A contractor offering significantly lower rates than others might cut corners, use lower-quality materials, or lack the proper licensing and insurance.
This could result in poor installation, which can lead to higher energy costs, and you might end up needing repairs or replacement sooner than expected. It's crucial to research and check the credentials of any contractor before hiring them.
High-End Contractor
High-end contractors are customarily more expensive, but they also tend to give you the highest quality service.
They are usually licensed, insured, and have a team of experienced professionals. They use high-quality materials and ensure proper installation, which can enhance the efficiency and lifespan of your windows.
While this option might cost more at first, it can save you money over time by reducing your windows' need for repairs and replacements. Plus, the work of high-end contractors is often guaranteed, giving you peace of mind.
---
Vinyl Window Cost By Brands
Different brands of replacement vinyl windows also come at different price points. Here's a table listing some popular brands and their cost ranges:
---
Tips For Finding The Best Window Prices
When shopping for vinyl windows, it's important to compare prices from different retailers and brands.
Be sure to consider the cost of installation as well as the cost of the windows themselves. Also, keep in mind that while cheaper windows may save you money at first, they may not last as long or perform as well as quality windows.
---
Benefits Of Vinyl Windows
Energy-Efficiency
Vinyl replacement windows are excellent insulators, helping to keep your home warm in the winter and cool in the summer. Energy-efficient windows are a great way to reduce your energy expenses and give your home a higher comfort level.
---
Durability
Vinyl windows are resistant to rust, corrosion, and termites. They are also weather-resistant, meaning they can stand up against harsh weather conditions without warping, cracking, or fading.
---
Low-Maintenance
Unlike some window frame materials, vinyl windows do not need staining or painting. They also clean easily, usually requiring nothing more from you than a quick wipe with a damp cloth.
---
Affordability
Compared to other types of windows, vinyl windows are pretty affordable. They offer a great balance of cost and performance, making them a popular choice for many homeowners.
---
Pros And Cons Of Vinyl Windows
Pros
Vinyl windows offer several advantages.
They are affordable, durable, and low maintenance. They are also energy efficient, helping to lower the cost of heating and cooling.
They also come in a broad range of styles and colors, giving you the option to better customize the look of your home.
---
Cons
Despite their many benefits, vinyl windows also have a few drawbacks.
They are not as strong as the other types of windows, such as aluminum or wood. They can also warp in extreme heat and become brittle in extreme cold.
Additionally, they cannot be painted or stained, so you are stuck with the color you pick.
---
Types Of Vinyl Windows
There are several types of vinyl windows to select from. These include:
Single-Hung Windows
In single-hung windows, only the bottom sash moves up and down. This type of window is a classic choice for many homes.
---
Double-Hung Windows
When it comes to double-hung windows, you can operate both the top and bottom sashes. This allows for better ventilation and is easier to clean.
---
Casement Windows
Casement windows have their hinges placed on one side, and you open them outward. They provide excellent ventilation and a clear view of the outdoors.
---
Awning Windows
Awning windows have their hinges at the top, and you open them outward. You can have them open when it's raining, providing ventilation without letting water into the house.
---
Picture Windows
Picture windows are large, fixed windows that offer a clear view of the outside. They let in enough natural light to brighten a whole room and can make it feel more spacious.
---
Sliding Windows
Sliding windows move horizontally along a track. They are easy to open and close and are a good choice for rooms that face walkways, patios, or decks.
---
Bay And Bow Windows
Bay and bow windows protrude from the house, creating a wide view and adding extra interior space. People often place them in living rooms, dining rooms, and primary bedrooms.
---
Vinyl Windows vs. Wood Windows And Aluminum Windows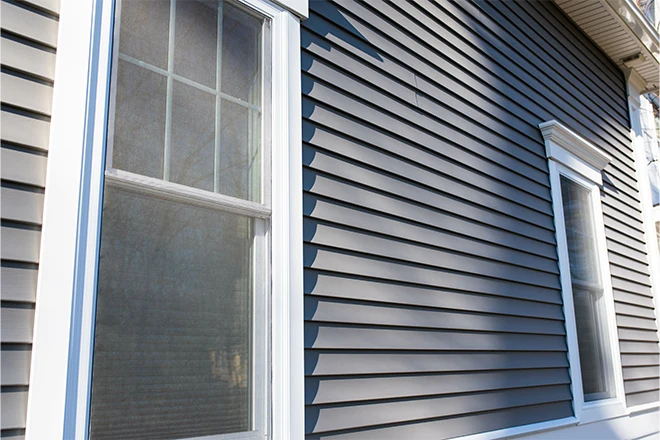 When comparing vinyl windows to other window materials, such as wood or aluminum, there are several factors to go over.
---
Vinyl Windows vs. Wood Windows
When considering window materials, wood is often praised for its timeless appeal and natural insulation properties.
Wood windows can add a classic charm to your home that's hard to replicate with other materials. However, this beauty comes with a higher price tag. Wood windows are generally more expensive than their vinyl counterparts.
Additionally, they require more maintenance, including regular painting or staining to prevent rot and warping.
Despite these drawbacks, many homeowners find the aesthetic appeal and potential increase in home value worth the extra cost and effort.
---
Vinyl Windows vs. Aluminum Windows
Aluminum windows, on the other hand, are known for their strength and durability. They are resistant to rust and corrosion, making them a good choice for areas with harsh weather conditions or high humidity.
However, aluminum is a conductor of heat, meaning these windows can let in more cold in the winter and heat in the summer, leading to higher energy costs.
While they may be more durable, they don't offer the same level of energy efficiency as vinyl windows. However, if strength and durability are your top priorities, aluminum windows could be a good fit for your home.
---
Get Your Vinyl Windows Professional Installed Or Replaced With Clifton Exteriors Of Fairfax, Virginia
Choosing the best windows for your home is a big decision. Vinyl windows offer many benefits, including affordability, durability, and energy efficiency. However, they also have a few drawbacks, such as susceptibility to extreme temperatures.
By understanding the costs and benefits of vinyl windows, you can better conclude if they're the right window material for your project.
At Clifton Exteriors, we offer high-quality vinyl window installations and replacements in Fairfax, VA. Our professional window installers are dedicated to providing you with the best service and the highest quality windows.
So why wait? Fill out our contact form today or give us a call to get started on your window project.